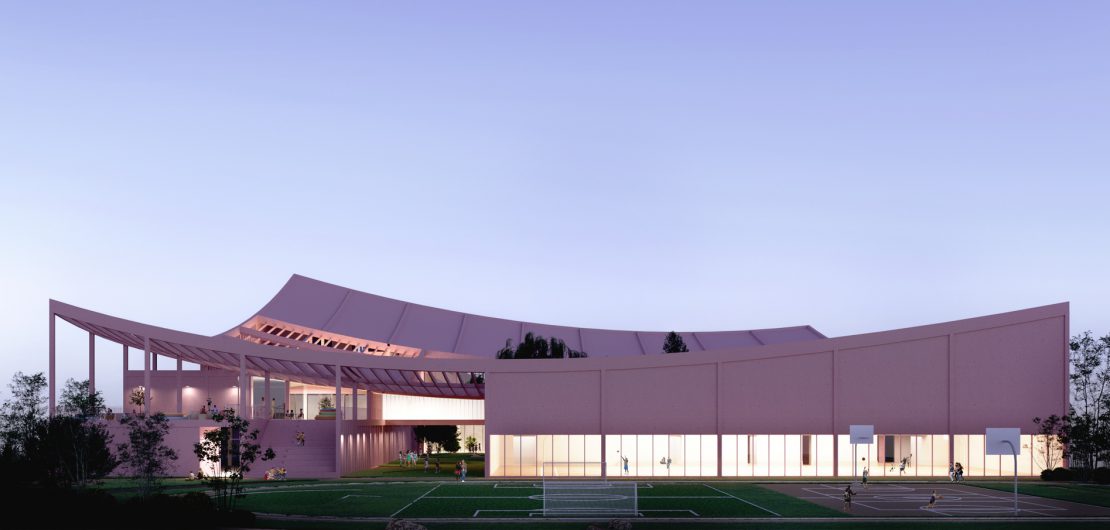 Růženka School & Kindergarten


LOCATION: Dolní Měcholupy, Prague, Czech Republic
PROGRAM: Elementary School & Kindergarden
CLIENT: Dolní Měcholupy Municipality
TEAM: sastudio | Tiago Sá, Andriy Shulyachuk, Tereza Konášová, Petra Lálová.
Engineering AM Engeneers Renders: Alvaro Maestro
Competition: Concept
Size: 10.500 m2


Our proposal revolves around a central park where all levels of education meet under one roof: a courtyard neighborhood for the kids. The footprint spreads through the site, creating a dynamic and extroverted and playful environment for the pupils.
The school becomes a campus of experiences and social dynamics, rather than just a learning space.
The building is wrapped in a vibrant, fun and happy color. The salmon/ pink-ish color gives the building a friendly character that differentiates it from its surrounding.
The shape of the sloping roof contrasts with the rigidity from the verticality of the louvers, simultaneously giving the school both a serious and a playful character. It's a place to learn but also to play, and the building must translate this concept.
The school is immersed in greenery, on each level the volumes are composed to connect both physically and visually to the surroundings.
This program arrangement, where each level has its own volume, allows every single level to have a dedicated exterior space, providing simultaneously spaciousness and intimacy, while the big courtyard and sports fields function as an all generation gathering point promoting growth and interaction within the educational environment.